X-perts (3): Toward a Material History of the Chinese Economic Journal (1924-37)
As we announced in our previous post, what we propose in this essay is a statistical exploration of the journal, including the number of articles published per issue and period, the volume of each issue, the length of articles, the nature of authorship, and the topics they addressed. In the last section, we will slowly moved from the analysis of articles to the profiling of their contributors. 
Number of articles
In the following analyses, we focus on authored contributions only (as opposed to anonymous reports or articles). Altogether, the journal published 345 unique articles throughout the fifteen of its existence (1924-1937), with significant variations across issues, as shown on the graph below.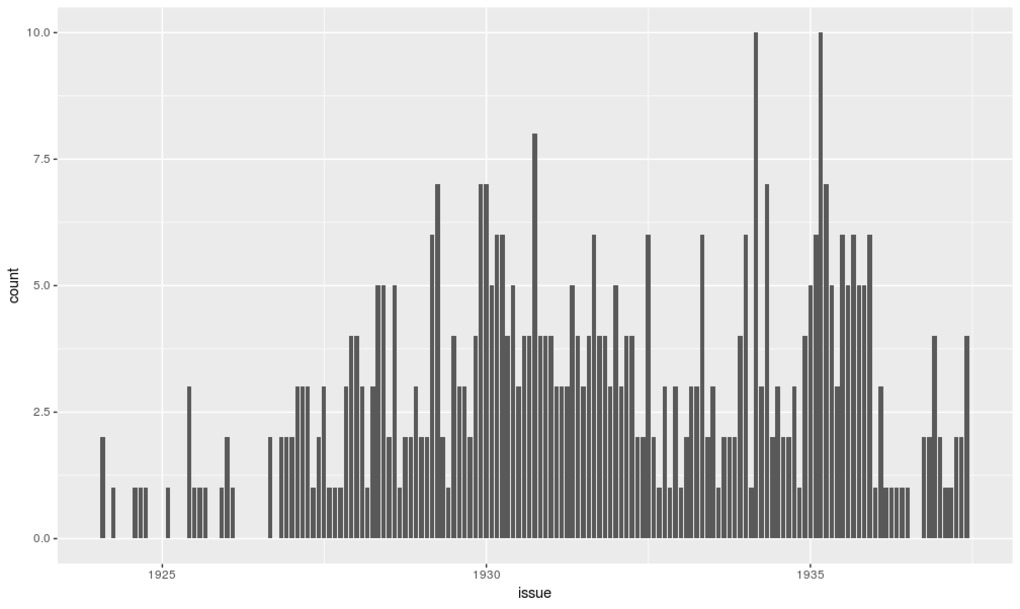 Number of articles published in the
Chinese Economic Journal
, per issue (1924-37). Original graphs and methodological data are available
here.
In the long-run, the average number of articles per issue is 4,3 – with a minimum of 1 in the early years (mid-1920s) and maximum of 10 ten years late (mid-1930s). Prior to August 1928, the Chinese Economic Monthly usually contained less than five authored articles per issue, and its successor the Chinese Economic Journal did not exceed seven. The number of contributions reached a peak under the direction of the Bureau of Foreign Trade, especially in 1934-1935, but decreased at the end of the period (with a maximum of 4 articles in the merged Chinese Economic Journal and Bulletin, in 1936-7).
Thematic distribution and topical shifts
In order to analyze the thematic distribution of articles, we divided the 345 items into nine major subject headings: agriculture and natural resources, economy and finance, foreign trade, industry, local monograph, population and sociological surveys, transportation and communications, war and Japan, and miscellaneous subjects.
The following graph show that in the long-run, foreign trade ranked first (120 of 345 articles), followed by economy and finance (92), agriculture (75), population and sociological studies (63), industry (28), transportation and communications (23), local monographs (22), miscellaneous topics (14), and war or Japan-related issues (8 articles).
Beyond this general distribution, the two graphs below reveal significant variations over time. Foreign trade and financial issues reached a peak during the second (1930) and third periods (1934-6). Foreign trade was not a major topic of interest in the early years, but rose later under the Bureau of Foreign Trade. The four most enduring fields (agriculture, economy, trade, and population) were also those that experienced the most dramatic variations over time (jumping from 1 to 10 articles). Four other themes were represented over a narrower period of time (1928-1936) – industry, local monographies, transportation and Japan (1930-1933) – but followed a more regular trajectory.
These results provide a very preliminary overview of the CEJ's contents based on the thematic distribution by numbers. Numbers, however, do not tell the whole story. A more in-depth content analysis of the articles is also needed. For this purpose, we expect to apply Natural Language Processing (NLP) techniques – provided we can obtain properly digitized and ocerized versions of the original text.
Topical specialization and diversification
Range of topics per issue
The following graph shows that the number of distinct topics covered in each issue ranged from 1 to 5, with significant variations from one issue to the other. The journal alternates between phases of high specialization (in 1932-1933 and 1935-1936) and broader topical diversity (1929-1930 and 1935). In the early years, the CEM stood as a rather monographic publication, with a maximum of two distinct topics per issue. The journal began to widen the spectrum of its expertise under the BICI, with five issues addressing up to five distinct topics each (April 1929, January 1930, March 1930, and later, February and April 1935).
Length of issues and articles
As shown on the time series below, the volume of the journal (measured by the number of pages per issue) experienced significant variations over time, with a major peak in the late 1920s-early 1930s.
If we now focus on the length of individual articles, we observe a sustained increase in the average number of pages, especially under the Bureau of Foreign Trade. Simultaneously, the gap between the shortest and longest articles dramatically deepened.
As for thematic distribution, the most substantial articles (more than 25 pages) were devoted to sociological surveys and to foreign trade. These topical fields were also those within which we observe the most dramatic variations between articles. The length of population surveys ranged from 1 to 63 pages, while foreign trade items contained from 1 to 77 pages. The second group includes articles with a reasonable number of pages (from 10 to 20) and covers a wide range of subjects: agriculture, economy, transportation, industry, local monographs, and Japan. The shortest articles (less than 10 pages) addressed miscellaneous issues. In the long-run, five topics experienced significant variations in the number of pages they were allocated. Industry and local monographs reached a peak around 1932-3. Foreign trade issues were allotted more pages under the Bureau of Foreign trade (from 1931 onwards), but also experienced stronger variations during this period. Population studies reached a (limited) peak in 1932, while articles devoted to agriculture or transportation followed a smoother trend, oscillating between one (1928, 1932) to 30 pages (1930).
Nature of authorship
As shown on the graph below, the large majority of articles (317) was signed by a single author, whereas only 7 were coauthored. There were also 3 items translated from Chinese articles and one reprint from an article published previously in another journal. Most co-authored contributions consisted in population studies or social surveys (4). In addition, four sociological articles included acknowledgements to external collaborators (either American leading scholars or research assistants)  – whom we coded as "indirect" contributors for analytical purposes.
Moreover, the following box plots reveal that co-authored articles were usually longer (from 15 to 30 pages) than single-authored contributions (less than 25 pages).
Notice that the attached graphs record some 32 "anonymous" contributions, which we include in our sample because they represent substantial research, and as such, they should normally be attributed an author. What we want to point out here is that this type of anonymous contribution tend to disappear over time, which suggests a growing recognition of research expertise.
Contributors
How did the number of contributors vary across periods and issues? Since most articles were single-authored (as we explained earlier), the trend line of contributors roughly overlaps with that of contributions.
Generally speaking, there were significant variations in the number of contributors across periods (as shown on the table attached at the end of this post). Particularly striking is the general increase of contributors (all nationalities included) during the third period, before the dramatic decline of the last two years (CEJB period), even though this is is partly due to the decrease in the number of registered contributions.
The following bar charts further help visualize the distribution of contributors per period, grouped by nationality. The most significant trend is certainly the continuous progress of Chinese contributors, who began to predominate under the Bureau of Foreign Trade (phase 3).
Distribution of CEJ contributors across period, grouped by cultural origins (stacked bar charts view). Original graphs and methodological data are available here.
A closer examination reveals significant variations across issues. There was a limited number of distinct contributors (less than 5 per issue) in the early phase of the journal (CEM period), during the years 1932-1933 and 1935-1936. The number of contributors jumped during the second phase (1929-1931) and reached a peak in 1934-1935, with 10 different contributors in March 1934 and 9 in March 1935 (which was a special issue devoted to foreign trade). As already suggested, foreign contributors predominated in the first phase, whereas Chinese authors became the majority in the 1930s.
In the long-term, all topical fields received the same average number of contributors, yet with significant variations across issues (from a minimum of 2 to a maximum of 7). Three particular topics, however, aggregated more contributors for a limited period of time. Financial issues, foreign trade and population studies mobilized up to ten authors per issue in 1934-1935. As a result, they also experienced more dramatic variations across issues.
Incidentally, foreign contributors happened to be better represented in the fields of agriculture, economy, population studies and foreign trade – especially in the CEM, at a time when there seems to be no Chinese experts available in this specific field. In the case of population studies, the trend line representing foreign contributors overlaps with that of Chinese authors (as shown on the graph below), which suggests that most articles were co-produced by Chinese and foreign researchers working in team. Interestingly, war- and Japan-focused articles were exclusively contributed by Chinese authors, who also predominated in the field of industry.
Toward a periodization of the CEJ
As a conclusion, the following table summarizes the main features of the journal – number of issues, articles, contributors, and range of topics covered – throughout the four time periods we defined in the introduction :
| | | | | |
| --- | --- | --- | --- | --- |
| Period | Number of issues | Number of articles | Number of contributors | Range of topics |
| 1 | 35 | 72 | 36 | 7 |
| 2 | 23 | 89 | 42 | 9 |
| 3 | 67 | 254 | 90 | 9 |
| 4 | 16 | 29 | 17 | 5 |
1. CEM-BEI phase (1924-July 1928)
Prior to August 1928, the Chinese Economic Monthly issued a total of 72 articles distributed across 35 issues. Regarding the distribution of articles by topics during that period, population and sociological studies ranked first (21 articles), followed by agricultural (20) and financial subjects (19). Foreign trade amounted for seven articles. The remaining articles dealt with transportation and miscellaneous topics (2 each), plus one local monograph. Foreign contributors predominated at the time.
2. BICI  phase (August 1928-June 1931)
During the second period (from August 1928 to June 1931, inclusive), the journal published 23 issues containing a total of 89 articles. Agriculture now ranked first (25 articles), followed by financial topics (20) and population studies (12). Other fields were devoted less than ten articles each. Eight articles dealt with foreign trade and seven with transportation. Local monographs amounted for six contributions. Three addressed industrial matters. One was devoted to Japan, and the seven remaining articles dealt with miscellaneous topics. The average volume of issues and the length of individual articles reached a first peak. Chinese experts began to take precedence over their foreign counterparts.
3. CEJ-BFT phase (July 1931-December 1935)
The third phase (from July 1931 to December 1935, inclusive) represents a climax in the publishing history of the journal, which issued 254 articles distributed across 67 issues. With the reorganization of the bureau, articles devoted to foreign trade naturally ranked first (93 contributions), followed by economic and financial matters (42), population studies (30), agriculture (27) and industry (24). This is also during this period that transportation, local monographs and Japan-related issues were best represented (15, 14 and 7 contributions, respectively). The journal continued to publish more substantial issues and articles. Chinese authors now clearly predominated in the journal.
During this specific phase, the CEJ offered thematic issues that focused on specific countries or geographical areas (Netherlands in March-April 1935, South Seas in Sept 1935), depending on the availability of specialized contributors. This kind of contributions suggests that the horizons of China's foreign trade broadened during these years. We also notice a change in terminology in the title of articles. For instance, in connection with the rise of the "developmental state" (Kirby 2001) and planification programs (Chen 1933, Zanasi 2006), items devoted to "development" policies and related concepts were allotted extensive space in journal in the mid-1930s.
4. CEJB  phase (January 1936-June 1937)
Naturally, the number of issues, contributions, contributors, the length of issues and articles, and the range of topics all dropped significantly during the last phase (spanning over two years only). The merged CEJB published 29 articles distributed across 16 issues. Foreign trade still ranked first (12 articles), followed by economic and financial matters (11). The remaining articles addressed minor topics related to agriculture (2), industry (1) and miscellaneous subjects (3). The monthly journal probably absorbed much of the "raw data" contents previously published in the weekly bulletin, and this may account for the general drop in substantial research contributions during the two last years, in addition to the narrowing time window.
Distribution of topics per period (stacked bar chart view). https://madspace.org/cooked/Graphs?ID=343
In the next essay, we will provide a more in-depth analysis of contributors' profiles, paying a close attention to the nature of their respective contributions – number and length of articles published, duration and frequency of contribution, range and nature of topics addressed.
References
Chen, Gideon. Chinese Government Economic Planning and Reconstruction since 1927. Chicago: China Institute of Pacific Relations, 1933. http://dspace.gipe.ac.in/xmlui/handle/10973/38661.
Kirby, W.C. "Engineering China: The Origins of the Chinese Developmental State." In: Yeh Wen-hsin Becoming Chinese. Berkeley: University of California Press ; 2000. pp. 137-160.
Zanasi, Margherita. Saving the Nation: Economic Modernity in Republican China. Chicago: University of Chicago Press, 2006.
---