X-perts (4): CEJ Contributors' Profile
This essay provides a preliminary analysis of authors' profiles in the Chinese Economic Journal (CEJ). As demonstrated in our previous post, the CEJ mobilized a total of 149 unique contributors over the fifteen years of its existence (1924-37). How many articles did they write for the journal? For how long did they collaborate with the Bureau? On which topics did they write? Is there any correlation between the duration of contribution, the number and the length of articles, and the topics they addressed?
Number of contributions and duration
Authorship in the CEJ shows a very skewed distribution. Quite naturally, we observe a reverse correlation between the number of contributors and the individual number of contributions (i.e. the number of articles contributed by each author). Among the 149 identified authors, most contributed just one article (98), 16 authored 2 articles, 8 contributed 3 articles, 4 authors contributed 10 articles, 2 authored 5 articles, and two others contributed 10 articles. The most prolific contributor was He Bingxian, director of the Bureau of Foreign Trade, who ranked first with 50 articles. He was followed by the German economist F. Otte (visiting professor at National University in Beijing for ten years from 1926 to 1936) who contributed 19 articles. Austrian currency expert E. Kann authored 18 articles, while Zhang Bingzhi (editor of the CEJ) contributed 17 articles. Russian mining expert Torgasheff authored 15 articles while he was a lecturer at Beijing University from 1927 to 1930. The American Commercial attache J. Arnold contributed 13 articles, while the Chinese Minister of Industry Chen Gongbo published 12 articles between 1932 and 1937.
In addition, there is a linear correlation between the duration and the number of contributions. Those who contributed for a short time (less than 5 years) were more likely to publish a limited number of articles (less than ten). Conversely, long-term contributors were more likely to publish more articles, with two notable exceptions, however :
He Bingxian, director of the Bureau, proved a highly intensive contributor, with 50 articles published in 5 years;
on the opposite, two extensive contributors published less than 20 articles over a decade (namely, F. Otte and E. Kann, both foreign experts in finance and currency, and long-term residents in China)
The table below classifies our contributing population into four main profiles, combining the two criteria of duration and numeric importance:
Duration

Long-term (>5)

Short-term (<5)

Number of contributions

Many (>10)

Regular

Intensive

Few (<10)

Extensive

Exceptional
To summarize, our population of 149 unique authors includes:
A majority of exceptional contributors (126 of 149): authors who contributed few articles (<5) for a short time period (less than five years) : for instance, the British Inspector General of the Maritime Customs (F. Aglen) or the Chinese banker Zhang Jia'ao 张嘉璈 (located at the bottom left-hand corner of the graph);
A minority of regular contributors (5 cases, on the right side of the graph), who contributed many articles (more than 5) for a rather long period of time (over 10 years), including the American commercial attache Julean Arnold, the Chinese Minister of Industry Chen Gongbo, Fudan-graduate economist Zhang Bingzhi, the Austrian currency specialist E. Kann and the German financial expert F. Otte (professor of economics at National University, Nanjing)
A few extensive contributors (4 of 149) who contributed less than five articles over more than five years. This group includes, for example, the American agronomist J.L. Buck and his Chinese collaborator Qiao Qiming 喬啟明, the Chinese minister of Finance H.H. Kung (Kong Xiangxi 孔祥熙), and the Chinese banker Shou Jingwei 壽景偉 (manager of the Central Bank of China);
A few intensive contributors, who produced more than 10 articles in less than five years, such as the Russian mining engineer B. Torgasheff and the director of the Bureau himself (He Bingxian 何炳賢).
From profiles to backgrounds
This section is an attempt to go beyond mere description and to interpret contributors' profiles in relation to their educational and professional background. Was the nature of their contribution related to their nationality or their institutional position in China? Was it correlated with their fields of specialisation (academic disciplines) and their level of education (academic degree)? More specifically, did Chinese authors contribute more articles and for a longer period than foreigners? Did bureaucrats contribute more articles and for a longer period of time than politicians or diplomats?
Educational background
There is no clear relation between contribution and academic degree. For instance, two foreign regular contributors present quite opposite profiles: F. Otte holds a Ph.D in Economics, whereas E. Kann did not possess any degree. Short and mid-term contributors usually earned a Master's degree or above (Ph.D). No degree-holders are either exceptional or extensive contributors. Bachelor-level contributors belonged to the middling category of mid-term moderate writers. Note that our top contributor He Bingxian holds a Master's degree in Economics. Unsurprisingly, long-term prolific authors usually majored in economics. Exceptional contributors often specialized in agronomy, sociology, law and to a lesser extent, engineering and natural sciences (botany, biology, entomology).
Institutional position
Similarly, there is no clear relational pattern between contributors' profiles and their institutional position. Regular contributors usually worked for the Chinese government or universities (but this reflects the more general domination of government officials and university professors among CEM contributors, as we will demonstrate later). There is too few information available on minor contributors and the position they hold. A substantial number of short-term contributors worked for transnational organisations, such as the Young Men Christian Association (YMCA) or the League of Nations.
The most prolific contributors (10 articles or more) were usually Chinese or long-term foreign residents in China (Kann, Otte, Arnold). In terms of positions, aside from experts directly employed by the Bureau, the top ten includes mostly visiting professors or researchers in Chinese universities (Otte), foreign officials (American commercial attaché Arnold) or engineers (Torgasheff, Fang). Interestingly, high-degree holders did not stand among the most prolific authors, which suggests that the finest minds did not spend much time in popularizing their knowledge in politically-oriented literature, but maybe preferred to focus on scholarly production. Only one of the top contributors owned a PhD, while two others did not go further the BA/BS level. One of them did not show any academic credential. Information on academic degree is missing for four of them.
Number of contributions and range of topics
Is the number of contributions correlated with the range of topics covered by individual contributors? Can we discriminate between highly specialized authors and generalist writers? Is it related to their level of education (academic degree)? More specifically, did PhD and Master's degree holders show a greater level of specialization than B.A.- or no degree-holders? To address this question, we propose to cross-analyze contributors' academic degree, number of articles and topical coverage.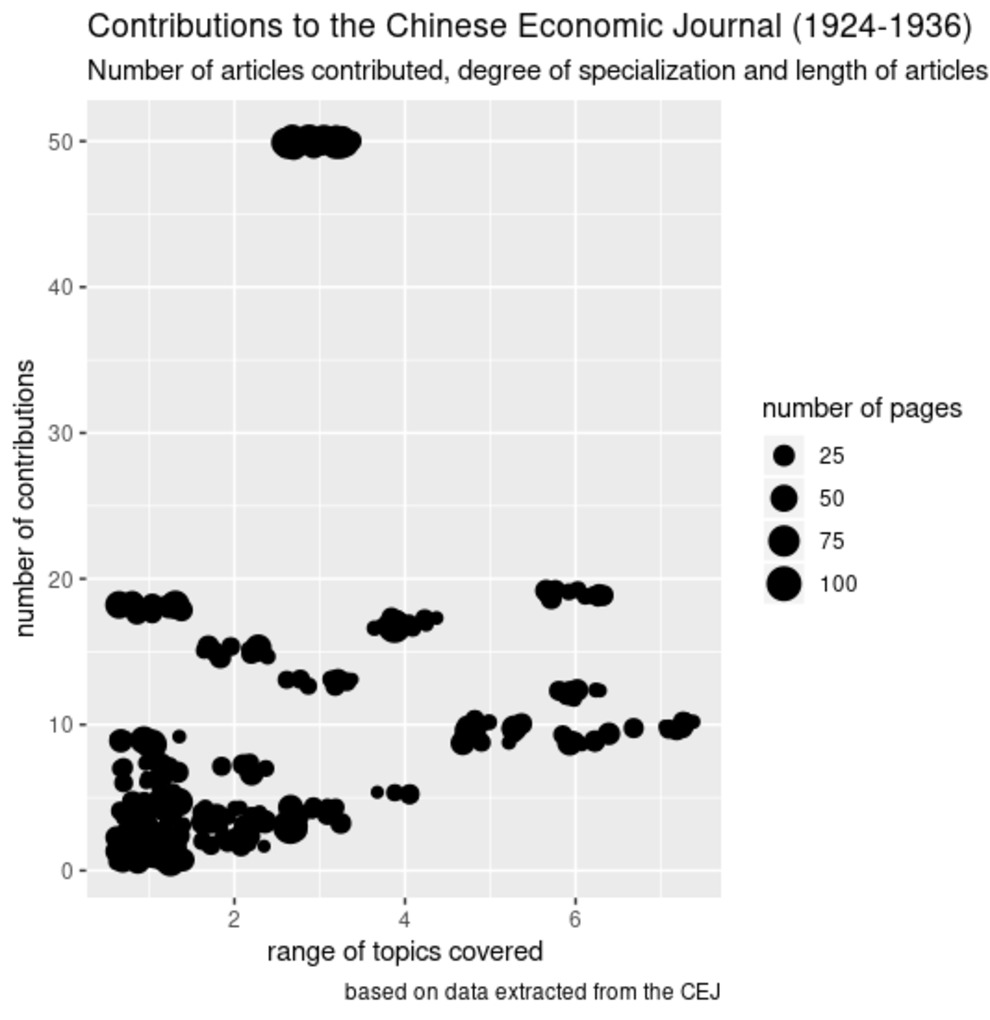 The above graph suggests a natural logarithm-type relation between the number of contributions and the scope of topics covered by individual authors. Topical range "naturally" expands with the number of articles contributed, in the limit of 10 contributions and 8 different topics. There is one notable exception to this rule, however. He Bigxian, again, addressed a rather limited number of topics (5) compared to the high number of articles he contributed (50).
The attached graphs suggest that there is no clear pattern of relation between topical range and level of education (highest academic degree). PhD holders tended to be more specialized than non-graduates, B.A. or M.A.'s (represented by pink dots at the bottom left-hand corner of the graph). But we also notice a PhD among the two most eclectic contributors (covering 8 different topics), and 3 MA whose topical spectrum ranged from 4 to 7 distinct subjects. At the opposite, two non-graduates narrowly focused on less than three distinct topics.
Number and length of articles
As we can see on the graphs below, there is no simple relation between the number and the length of articles that each author contributed. Marginal contributors (less 10 articles) are usually those who wrote the shortest articles (less than 25 pages), while regular ones could wrote from less than 10 to more than 75 pages. The most prolific authors (more than 30 articles) produced articles that contained less than 40 pages. The last group contributed less than 20 items, but their contributions often exceeded 50 pages. In addition, the following graphs suggest that there is no clear relation between the number of pages contributed and contributors' nationality, their field of specialization, level of education (academic degree), and institutional position.
To clarify this point, we should include other variables, such as the total number of pages in the journal, the time publication, and the content of articles. Is the length of articles related to the topics they addressed? To the material history of the journal itself (average size of articles, total number of page in each issue, and variations over time?). Maybe we would also gain in combining different visualizations.
The
next essay
, we will try to contextualize further the contributors' profiles by providing a more systematic analysis of their life trajectory, educational background and institutional positions.
---